Turkey paper plate mask kids can make
Thanksgiving paper plate turkey craft
Here is a fun Thanksgiving craft idea for kids!
If you are looking for paper plate mask ideas, you are in the right place. This post will show you how to make a paper plate turkey mask. This craft is ideal to make during the Thanksgiving holiday.
This will help to engage kids when they are bored and they can play dress-up after making it.
Before moving on to the craft, we would appreciate it very much if you will check out our Youtube channel and subscribe to it. We upload new easy craft tutorials every week there that are different from what we publish on the blog. Thank you!
So let's get started.
Some of the links in this post are affiliate links, which simply means that if you happen to purchase something, I get a small commission at NO extra cost to you.
Materials required:
Step 1: Shaping the turkey mask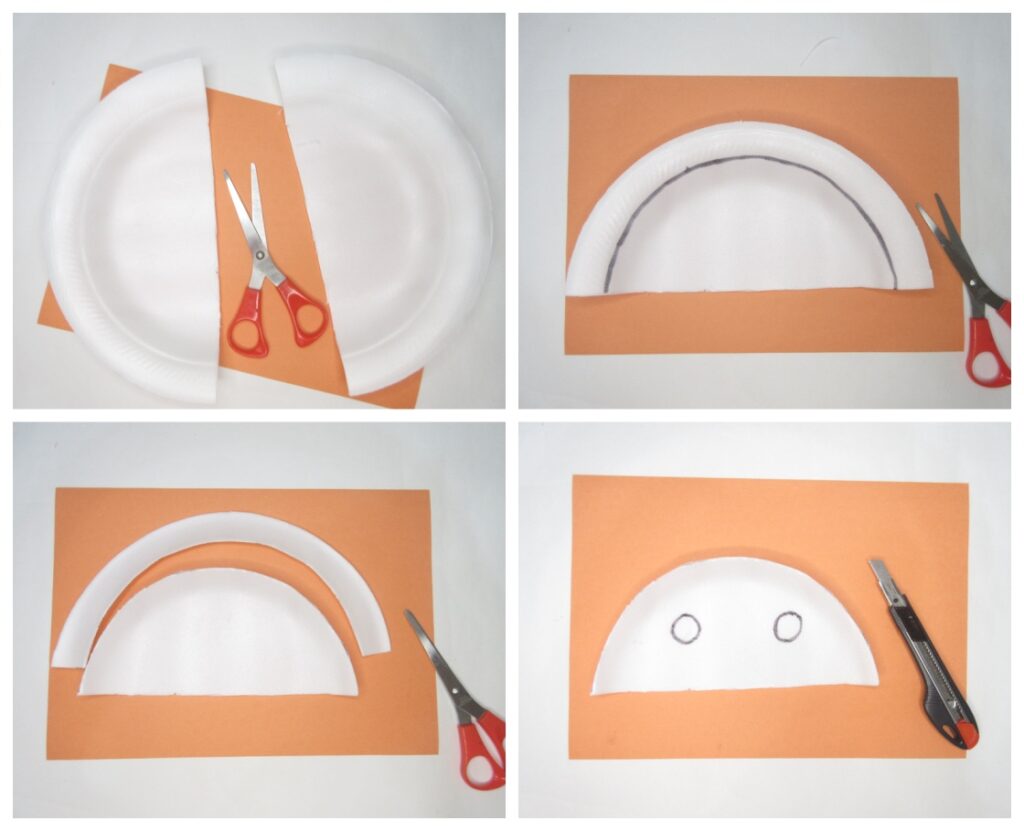 Take a paper plate and cut it into halves.
Draw an outline as shown in the second picture near to where the curve of the paper plate starts (refer to the picture). When you draw the outline, make sure you leave some curvy portion inside.
And then cut the outer portion of the paper plate out along the outline.
Now, on the remaining part of the paper plate, draw two round eyes.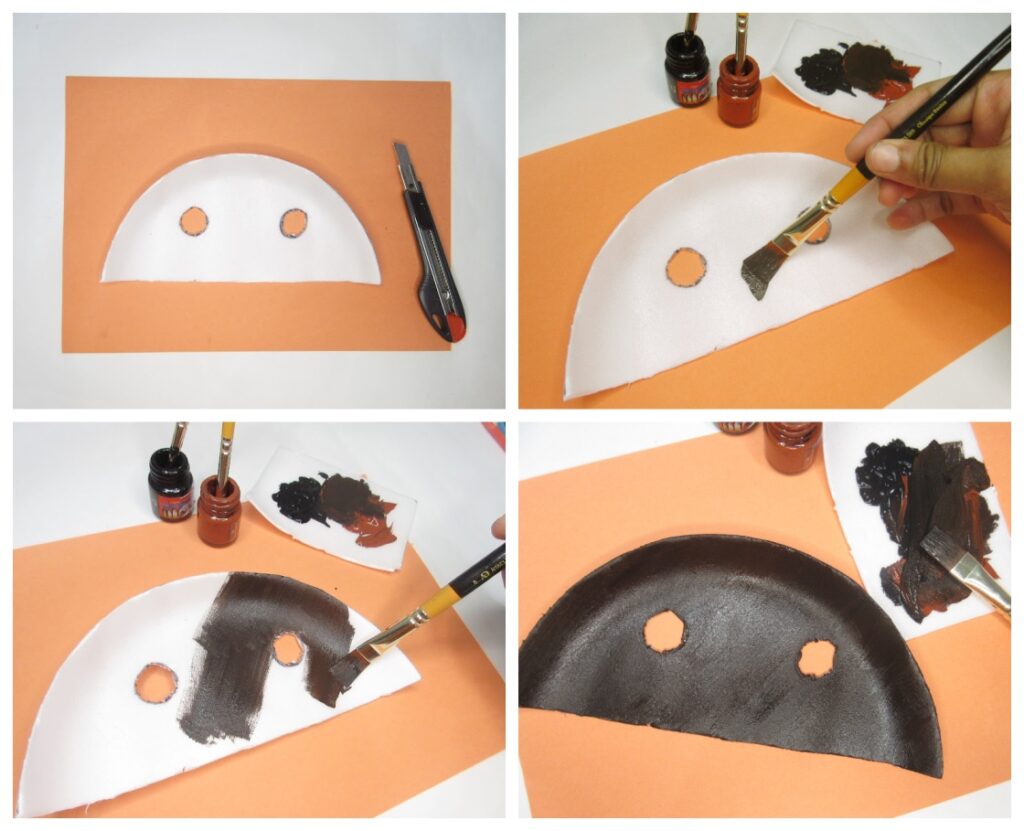 Cut the eyes out.
Take black paint and apply it on the mask as shown in the picture above.
Step 2: Making the turkey tail, beak and tongue
Now, take two construction papers -yellow and orange.
We will make the feathers of the paper tail in both colors, yellow and orange.
For making the tail feathers, draw the shape of a feather as shown in the picture above. The length we took is 12 cm.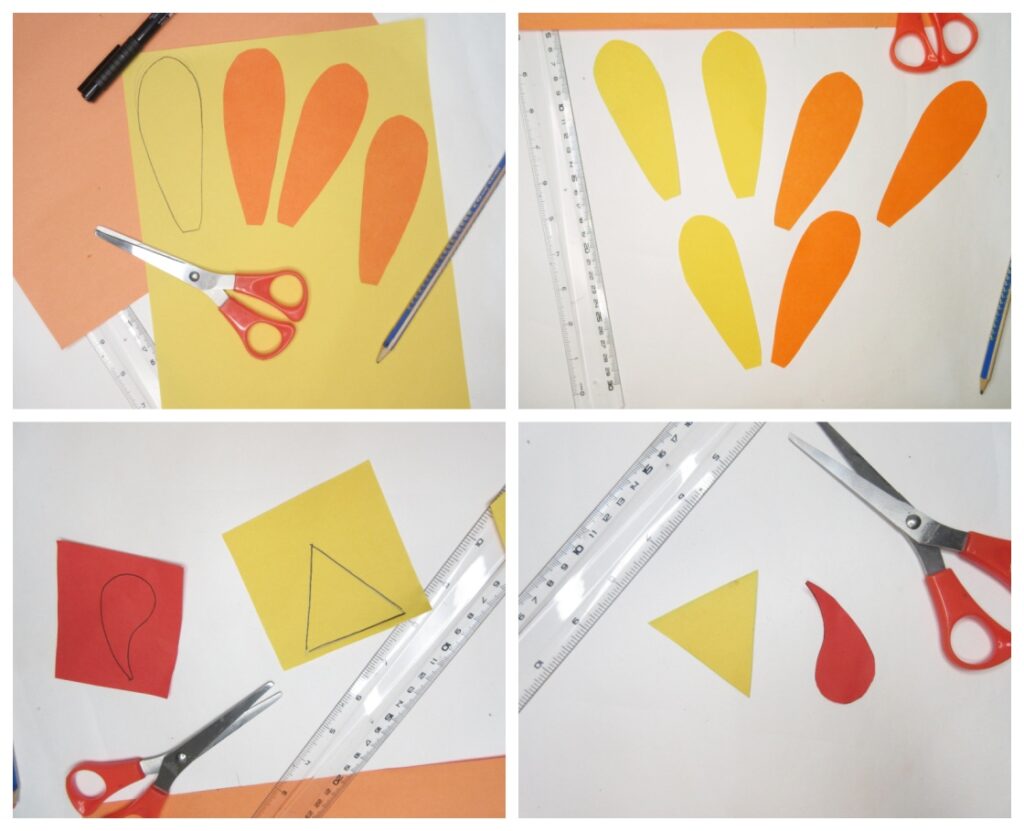 Make three paper feathers in orange color and three in yellow color. So in total, we have six paper feathers.
Now, to make the tongue and beak of the turkey, draw a triangle on a yellow paper and a curved teardrop on a red paper.
Cut both shapes out.
Step 3: Put everything together and the mask is ready!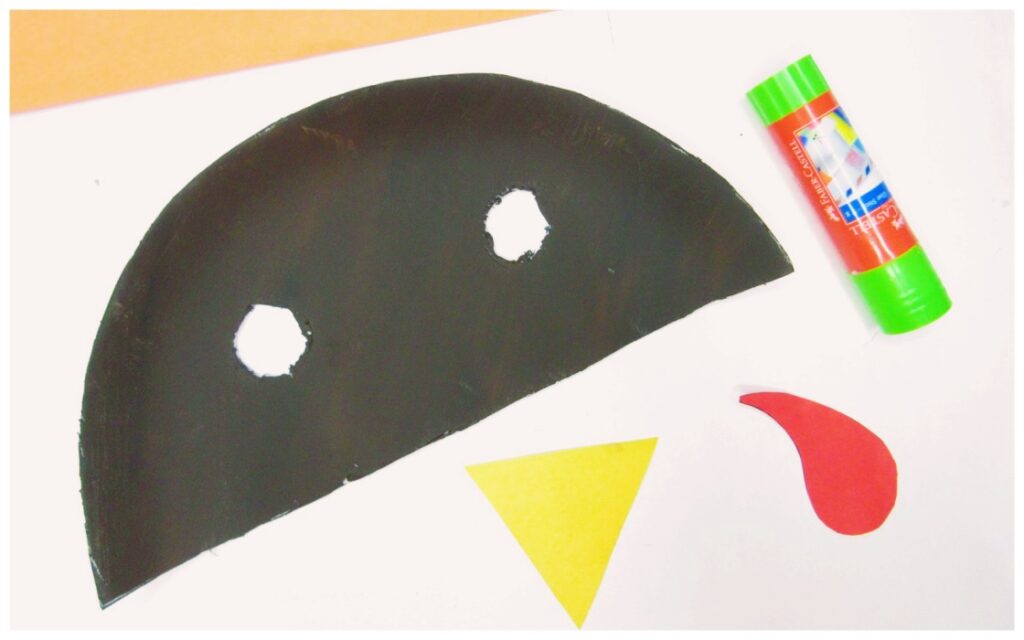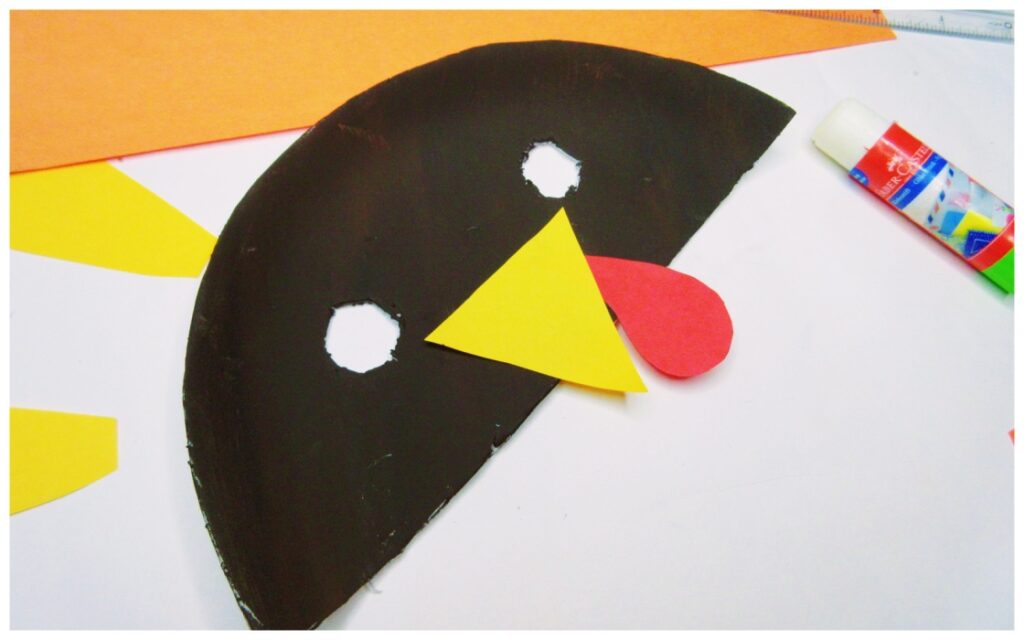 Now, stick both- the beak and the tongue on the paper plate as shown in the above pictures.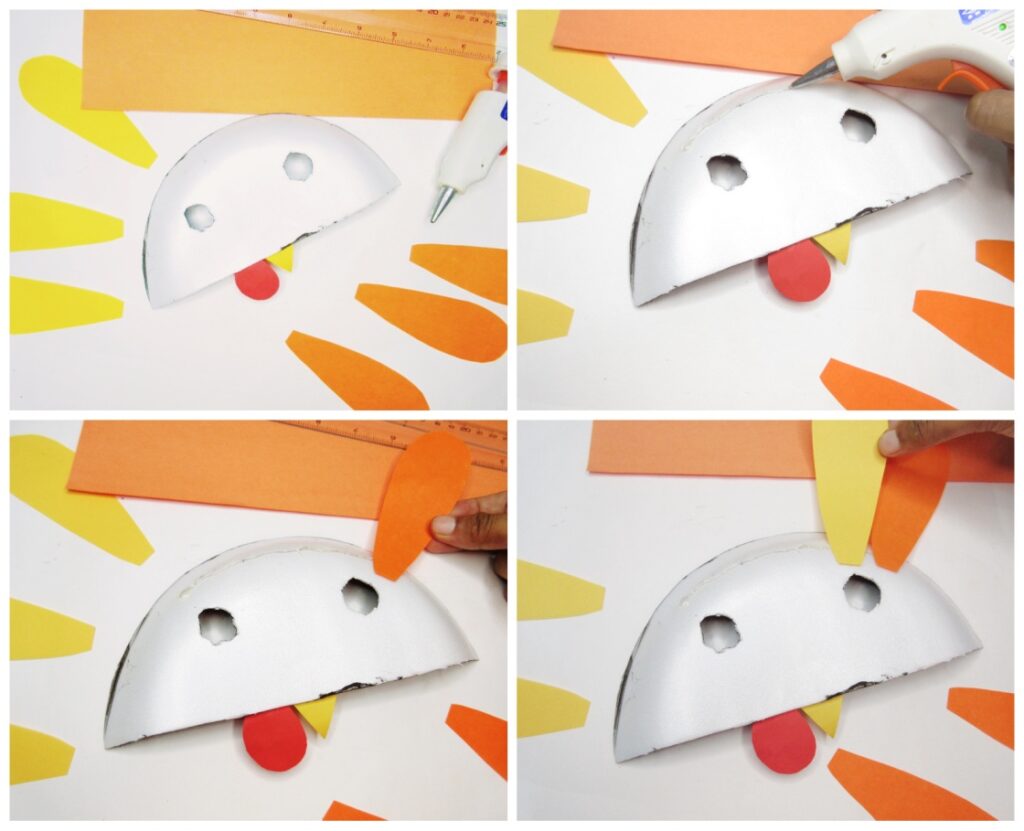 Now let's attach the paper feathers to the paper plate.
Apply hot glue and stick the paper feathers onto the paper plate one by one as shown in the picture above.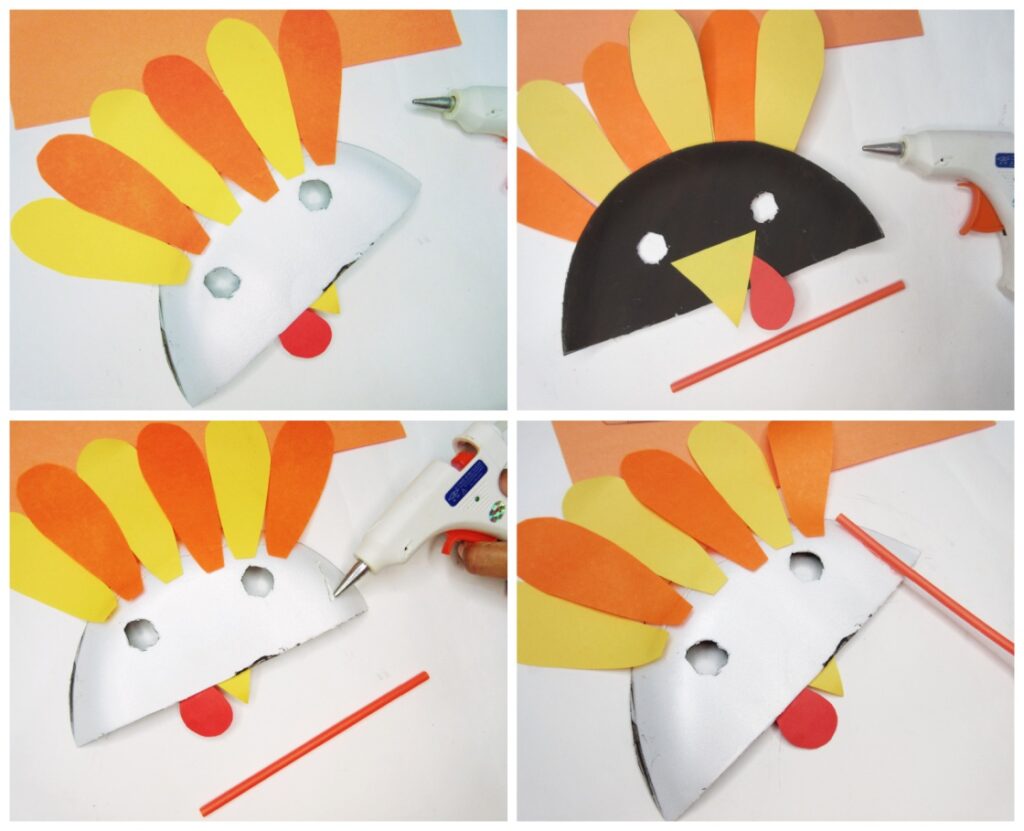 Now, apply hot glue on the backside of the mask as shown in the pictures above to stick a plastic straw (or any stick-like objects you can find) on to the mask.
And….the paper plate turkey mask is ready!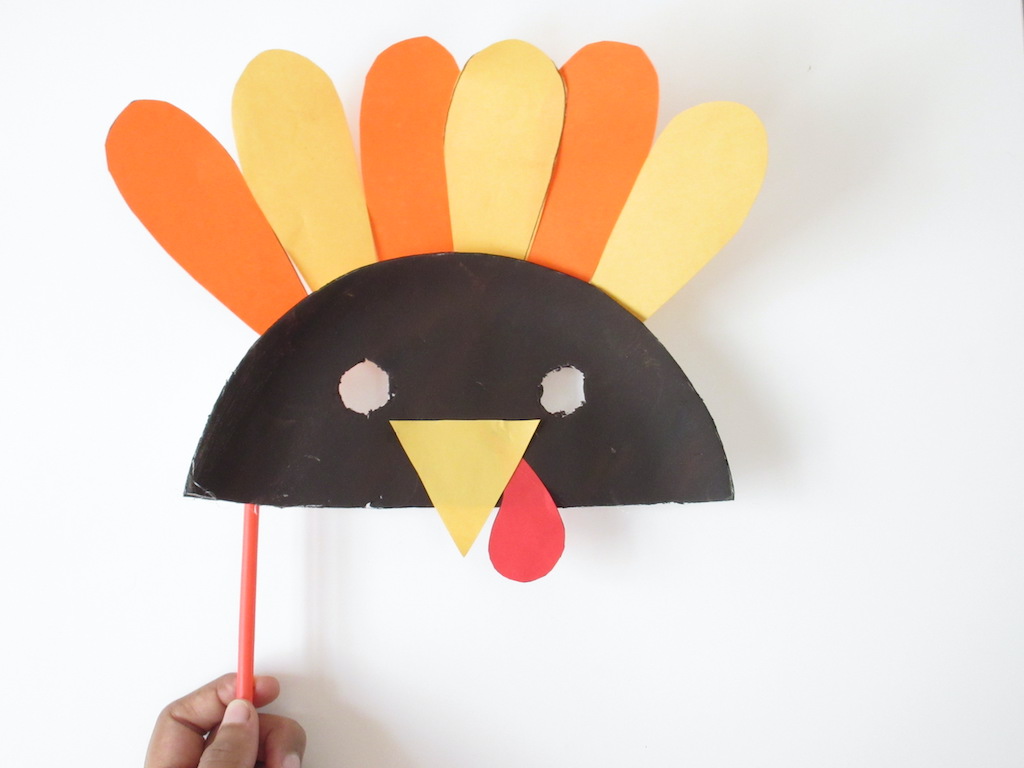 We hope you enjoyed making this paper plate mask. Let us know how it went in the comments below!
Like this idea? Save for later!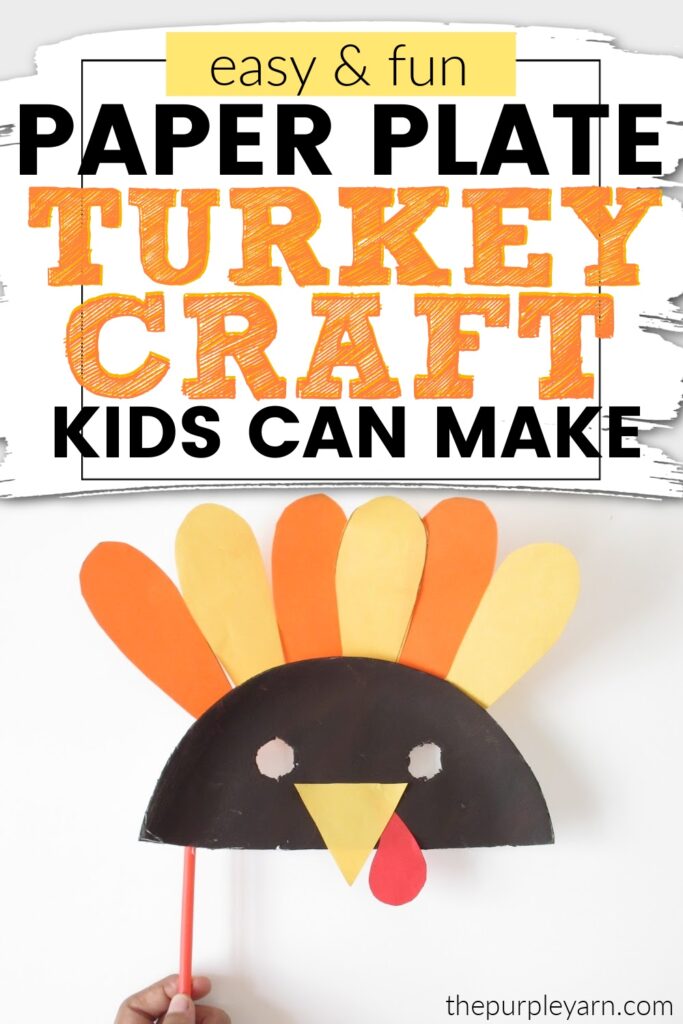 More fall and Thanksgiving craft ideas: