Easy cat in the hat craft Idea with popsicle stick
Dr. Suess Day craft idea for kids
If your kids are a fan of Dr. Suess' stories, they will enjoy doing this Cat in the Hat craft idea.
This is a low-prep activity.
Cat in the Hat is one of the famous characters Dr.Suess created. Through this craft, you can introduce this character known for his magic tricks to your kids.
Or if they are already familiar with him, it would be fun for them to bring the character to life on their own.
So, shall we start?
Before moving on to the craft, we would appreciate it very much if you will check out our Youtube channel and subscribe to it. We regularly upload new easy craft tutorials that are different from what we publish on the blog. Thank you!
So, let's start!
Some of the links in this post are affiliate links, meaning that if you happen to purchase something, I get a small commission at NO extra cost to you.
Materials Required:
Paper, pen, and pencil (to draw the cat)
Step-by-step Cat in the Hat craft tutorial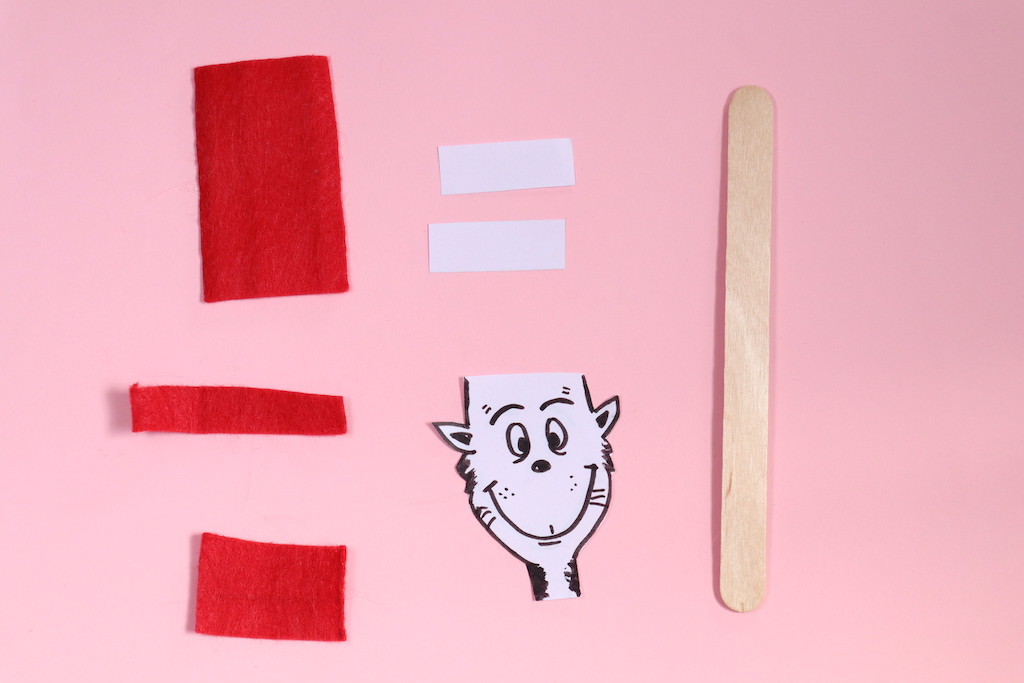 Get all the materials ready.
As the first step, let's make the cat's hat.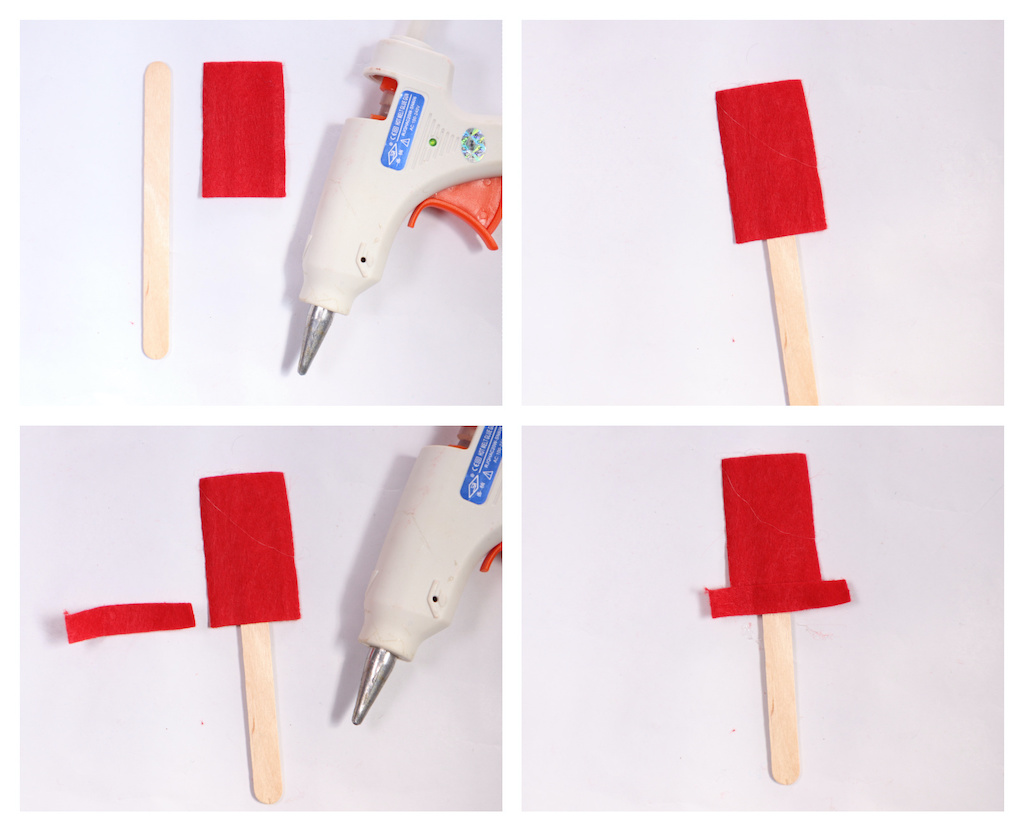 Cut a felt cloth in two rectangular shapes as shown in the above pic. Using hot glue, paste the felt pieces onto a popsicle stick as seen in the pic, making a hat's shape.
2. The next step is to draw a cat's face. You can either draw it for kids or let them draw themselves (it doesn't need to be perfect).
Make sure you draw a small face that fits the popsicle stick. And stick the face to the popsicle stick using hot glue.
3. The next step is to make a bow using felt cloth.
To make the bow, cut a small rectangular piece of cloth and wind a piece of yarn around it. Tie the ends together to make the bow.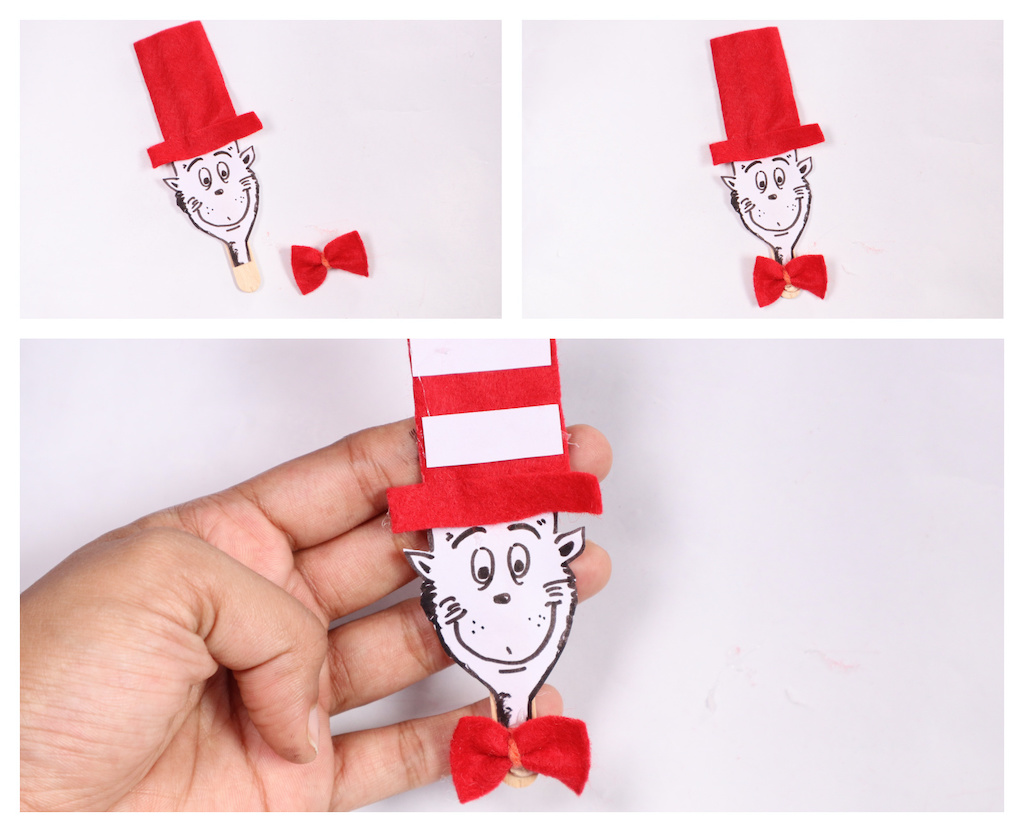 Now, stick the bow to the popsicle stick. And also, stick two white paper rectangles onto the hat to create the stripes.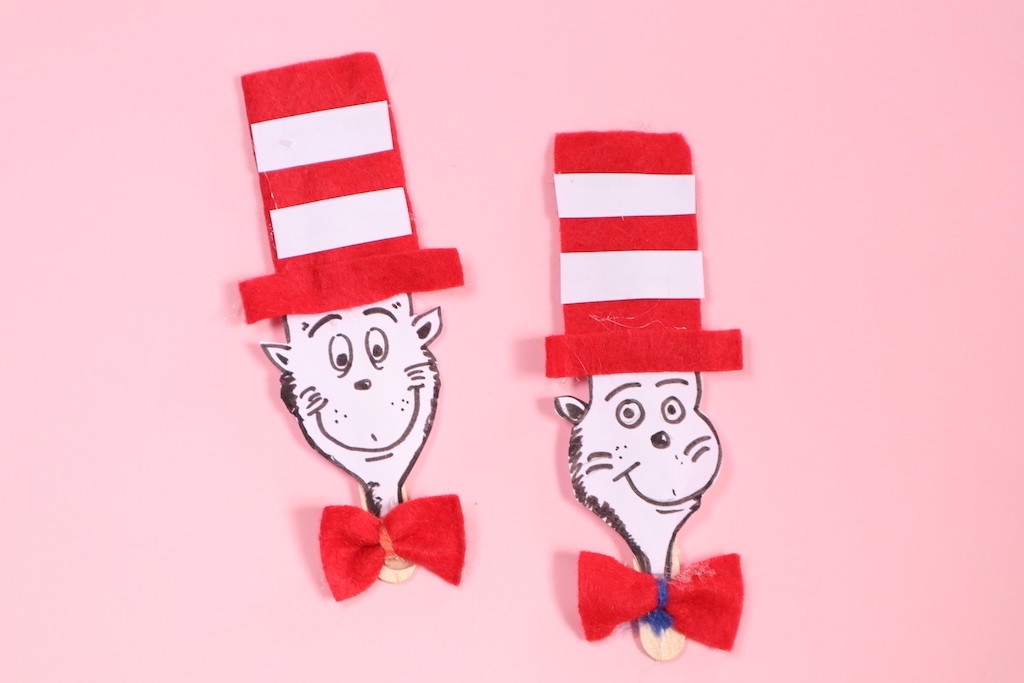 And your popsicle stick Cat in the Hat is ready!
Isn't this an easy one?
You can draw the outlines of the shapes on the felt cloth and pre-schooled-aged kids and above can help with the cutting part.
This craft is a simple and easy one to make if your kids love the Cat in the Hat character and have the materials at home.
Try this and let us know how it went in the comments below.
More popsicle stick crafts: