Mother's Day flower craft idea for kids
Easy Mother's Day craft with messages for mom
This Mother's Day, shower your mom with love and gratitude messages with this simple flower craft.
Flower crafts are popular, and what makes this craft special for your mom is that she will get to read all the handwritten messages from her kiddos.
This Mother's Day flower craft is easy to do, as you need only two-three materials to do it. Our printable flower template will make it easier for kids to do this craft for their mama.
So without much ado, let's move on to the craft.
But before moving on to the craft, we would appreciate it very much if you will check out our Youtube channel and subscribe to it. We upload new easy craft tutorials every week there that are different from what we publish on the blog. Thank you!
So, let's start!
Some of the links in this post are affiliate links, which simply means that if you happen to purchase something, I get a small commission at NO extra cost to you.
Materials Required:
Watercolor or any other coloring tool of your choice (crayons may not work though, as we need to write on the paper after coloring)
Scissors
Black marker pen
Pen to write the Mother's Day messages
Popsicle stick
Glue
Template #15 – Mothers' Day flower with love messages craft template (available in our free resource library – get the password by signing up using the form in step 1)
Step 1: Download and print the free Mother's Day flower craft template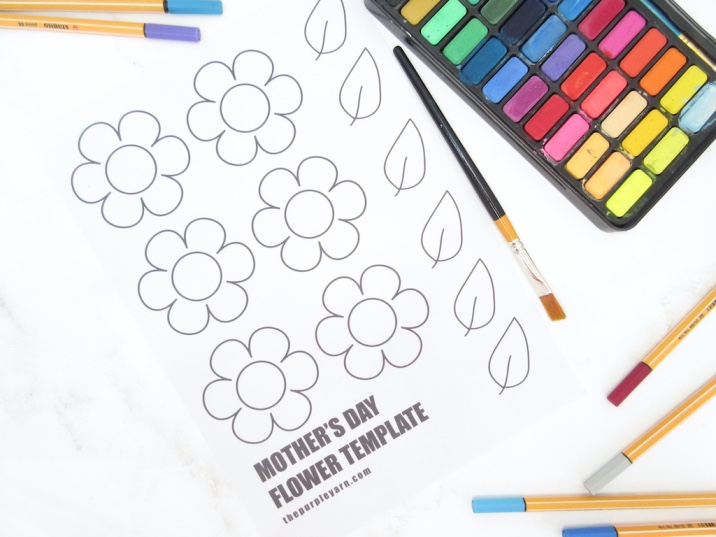 Download and print the flower template. You can download them from the library by signing up using the form available in the next section.
Free printable template for Mother's Day flower craft
Get the free template for this craft and password for the library to your email by filling out the form below. There are two versions available – black and white, and colour.
If your kids would love to colour the flowers on their own, you can download the black and white version.
Step 2: Give color to the flowers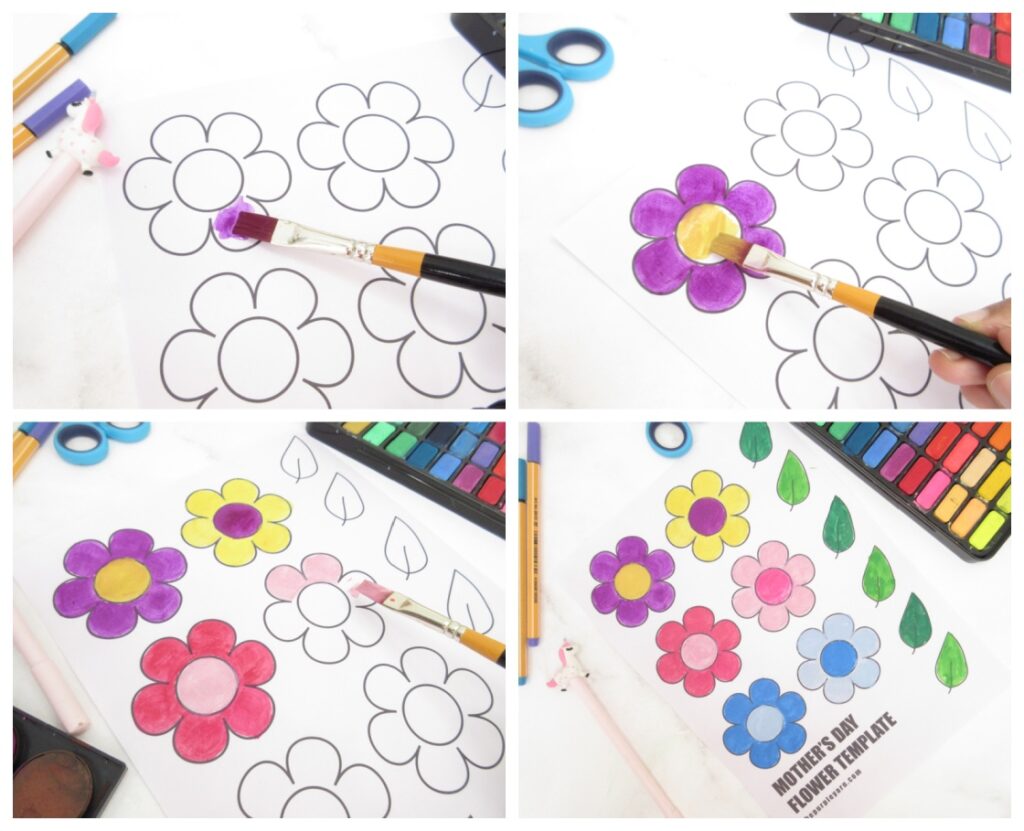 Start by colouring the flowers and the leaves.
Here we used watercolour paint. You can use any colouring tool of your choice, but keep in mind that we need to write Mother's Day messages on the petals of the flowers.
Note: On the template, there are six flowers in total. And on three flowers, we would be writing the Mother's Day messages. And three other flowers would be stuck on top of the flowers with written messages. So make sure, the three flowers on which you are gonna write are painted using light colours so that the written messages are visible.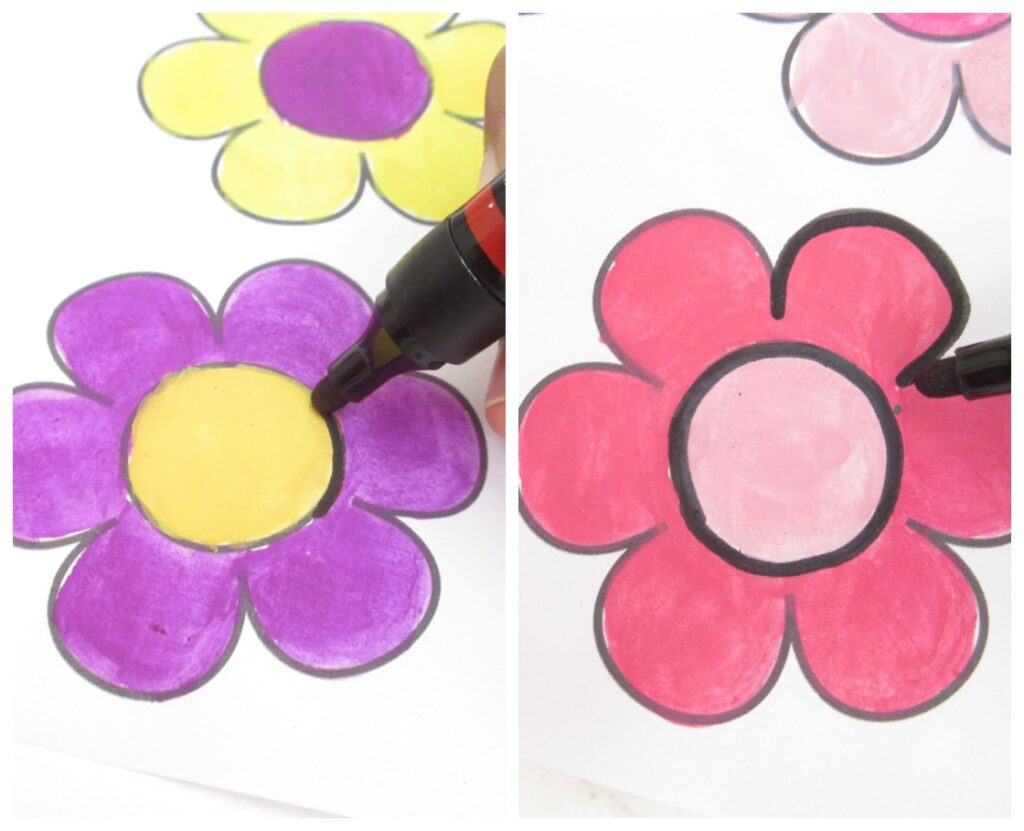 After colouring, use black marker pens to draw outlines on the flowers and leaves.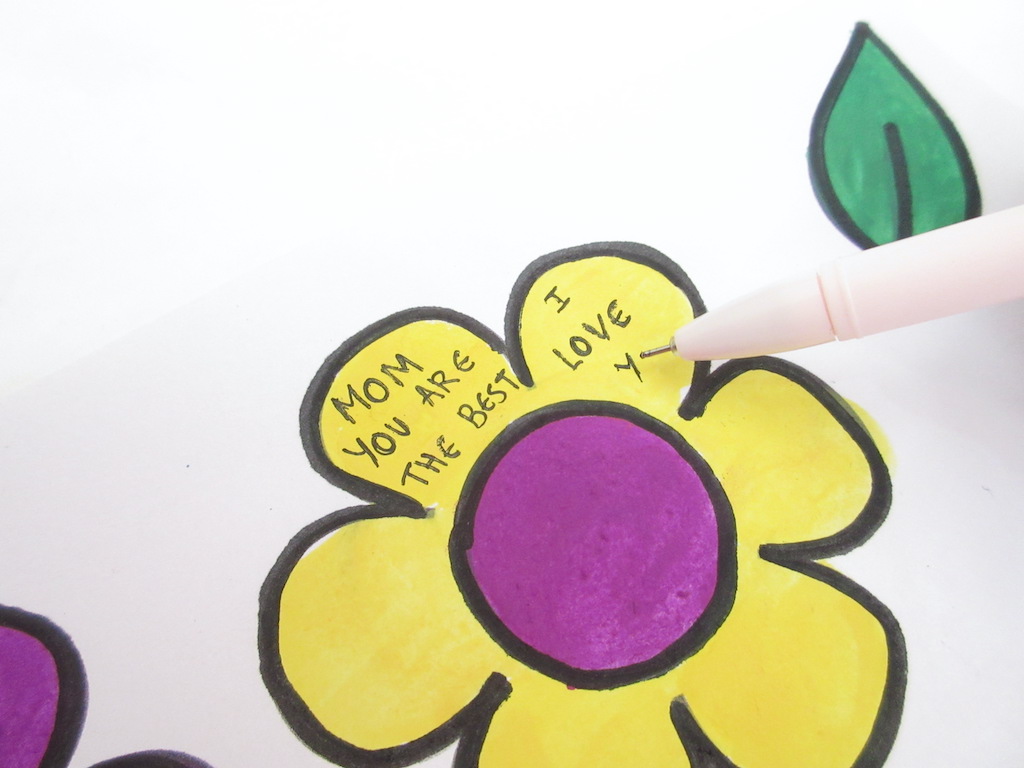 After that, kids can write short, touching messages they want their mom to hear on all the petals of the flowers. Make sure kids write the messages only on three flowers, painted with light colours.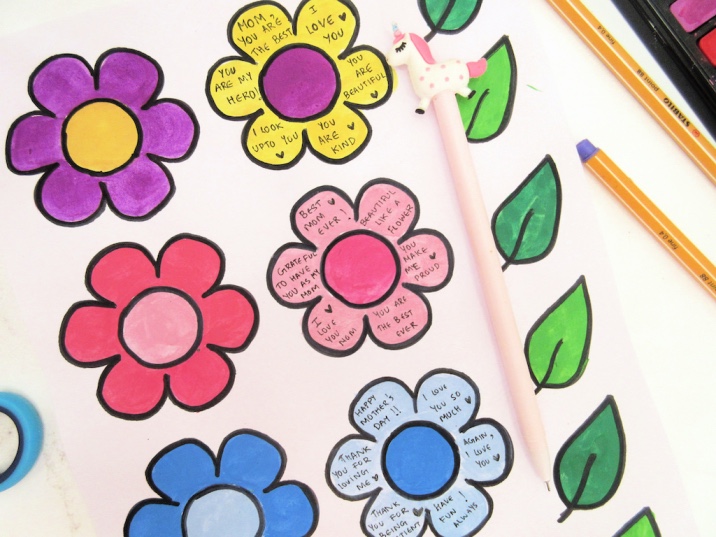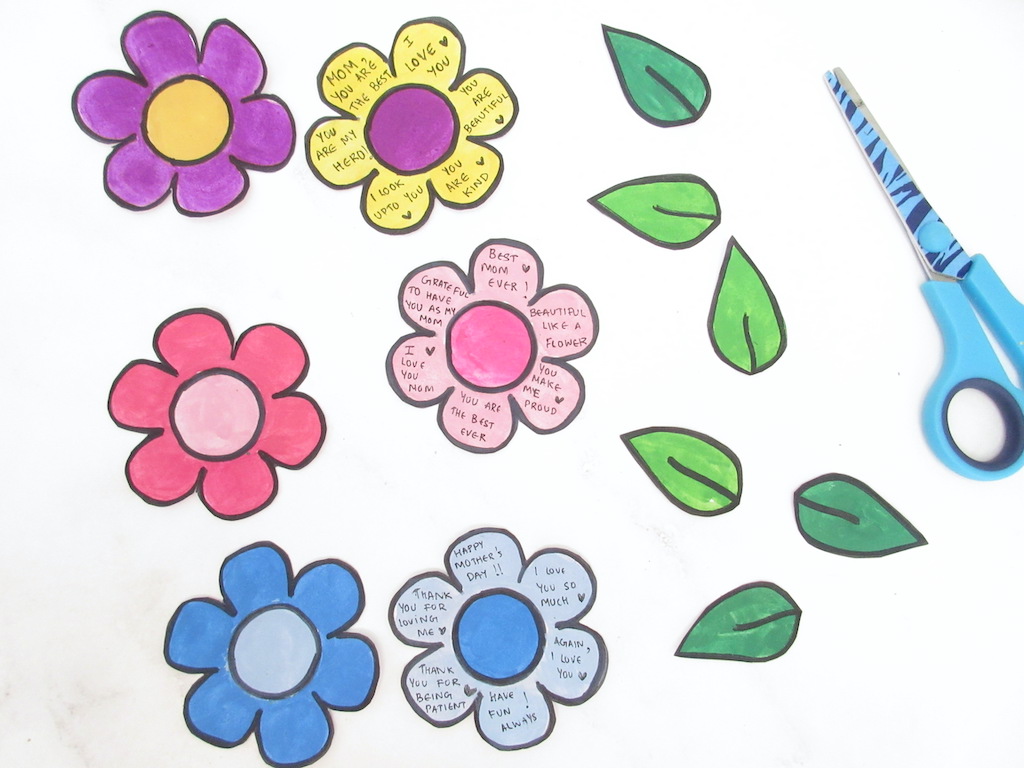 Now, cut all the flowers and leaves out.
Easy Mother's Day flower craft with love messages for moms(free flower template available)
On a popsicle stick, apply some glue, and stick a flower with handwritten messages.
After sticking, apply some glue to the centre portion of this flower. (Make sure you don't apply any glue on the petals, but only in the centre).
After that, stick a plain flower without written messages on top of it.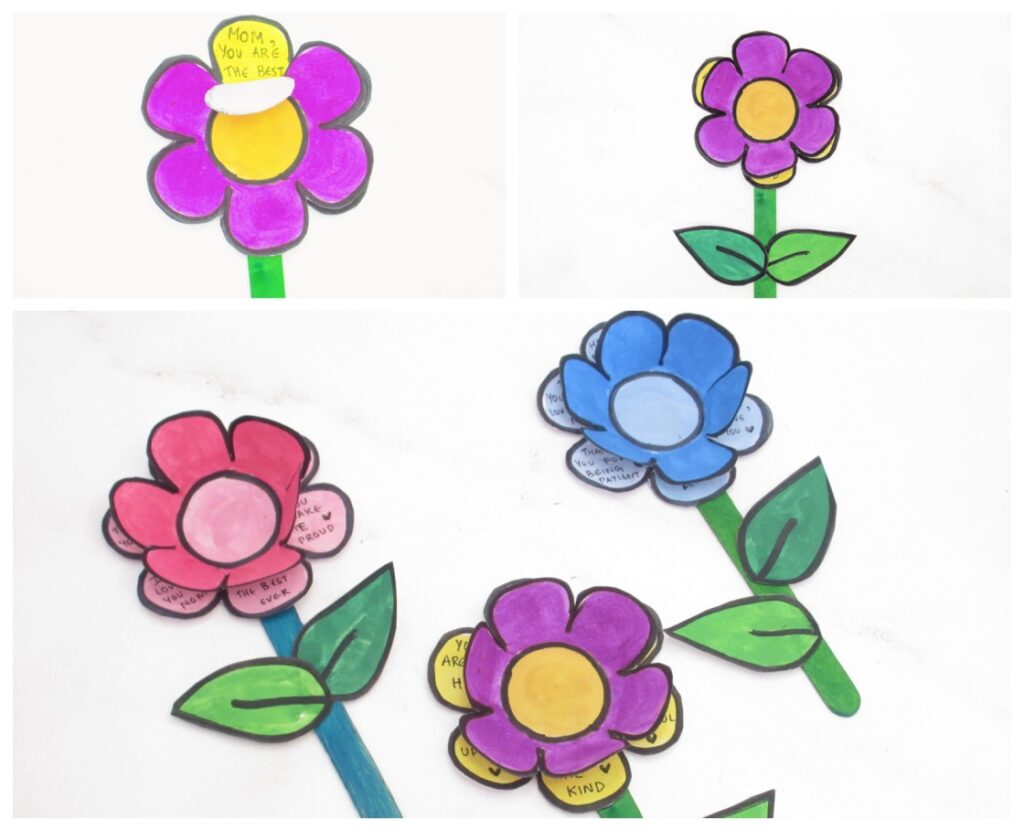 Now, peel the petals of the flowers a little backward towards you, so that the flower on the top looks like it's half-opened and offer a sneak-peek of the love messages for your mom.
You can use these flowers in different ways. You can put them in small pots, stick them on a card, frame them, etc.
We hope you enjoy doing this craft. Write about your experience in the comments below.
More Mother's Day craft ideas for kids: